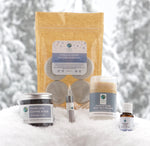 Best Skincare Products for Canadian Winter
Featured Holiday Edition Winter Skin Care Essentials 
Wintertime is beautiful in our Canada, but it can sure do a number on our skin.  That's why Emerald Earth, created natural skin care products that protect and nourish your skin through the harsh winter months. Here are our top 4 winter ready natural skin care products to warm you up, renew your skin, and protect you from the elements. 
Vanilla Latte Coffee Scrub
Say goodbye to dry winter skin with the invigorating Vanilla Latte Coffee Scrub, as you exfoliate away dead skin cells, revealing fresh, nourished skin.    
This luxurious whipped body scrub features locally roasted VALE COFFEE grounds to exfoliate and renew your skin. You'll love this unique combination of local coffee, vanilla, coconut, and shea butter that smells absolutely divine, while leaving you with smooth and nourished skin.


Warm Vanilla Spice Bath Truffles 
Next, draw yourself a warm bath and pop in one of the Emerald Earth Warm Vanilla Spice Bath Truffles, for a cozy winter spa soak. Featuring delicious aromas of Vanilla, Cinnamon, Clove and Sweet Orange, plus the addition of Cocoa Butter to hydrate your skin. You'll relax with a heavenly wintertime scent that will warm you up on a cool winters day. 
Cocoa & Vanilla Body Butter Bar 
After your bath, hydrate your renewed skin with the Cocoa & Vanilla Body Butter bar, and leave it smelling oh so yummy.  Rich with Cocoa Butter, Coconut Oil, Vitamin E and Vanilla, this body bar melts effortlessly on your skin to moisturize, protect, and hydrate, with a delicious smooth finish you'll be telling your friends about.  
Want to take it on the go for smooth, hydrated skin throughout the day?  The easy to use and convenient to carry packaging let's you treat yourself to silky smooth skin no matter where you are. 
Coconut Natural Lip Balm 
Before you head out, make sure you protect and moisturize your delicate lips from the winter elements with the Coconut Natural Lip Balm.  This long lasting, protective lip balm has a fresh coconut scent and natural healing properties. Natural beeswax helps to protect your lips from the elements, while cocoa butter, sunflower oil, and Vitamin E work to hydrate and soothe dry chapped lips.
The long winter months don't sound so bad after all, if it means that you get to use the winter skin care essentials from Emerald Earth Organic Spa. Give them a try, and you'll be feeling comfortably cozy in your own skin all winter long.  
To learn more about Emerald Earth and to shop our lineup of natural skin care products, head to our website at https://emeraldearthorganicspa.com/

We hope to see you soon! 
Thanks for checking us out, and remember you can make every day feel like a spa day.