100% Natural : Pure & Clean
Formulated & Handcrafted by a Naturopath
Eco- Friendly & Cruelty Free
100% Natural : Pure & Clean

Formulated & Handcrafted by a Naturopath

Eco- Friendly & Cruelty Free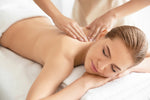 Emerald Earth Organic Spa
MASSAGE & SPA TREATMENTS
Need a relaxing day to unwind?
We offer professional massage and spa services at our Spa facility located within The Best Western Plus Hotel, Valemount BC. Our trained therapist has over 20 years hand on experience, offering customized massage, spa facials, foot bliss therapy, hot stones massage and spa packages.
Online Booking available!
Spa Menu
Emerald Earth Spa Reviews
What customers are saying...
"One of the BEST massages I have ever had, and I've had many!"

- Rowena

"I was spoiled to a 1 hour facial by Sherrie and it was exquisite! I've had a lot of facials and no other can compare to this one. If you havn't had the luxury, do yourself a favour and treat yourself to a spa day with Sherrie."

- Kris

It was everything my body needed and more. The smells, the warm towels and of course her perfect pressure. I'm so glad I got the 90min massage. My body hasn't felt this good in a long time.

- M.I

"I frequently receive treatments from Sherrie at The Spa. The whole experience always leaves me feeling like I'm on cloud 9. Her talent and attention to detail is outstanding. She runs an incredibly professional operation. I recommend her to anybody looking for relief of body aches/pains or just in need of a relaxing reset. She has hands of a angel."

- Christopher