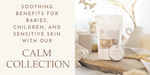 Soothing Benefits for Babies, Children, and Sensitive Skin with Our Calm Collection
Between the chaos and daily grind, stress and irritations often sneak up on us. 
Our Calm Collection is more than just products. It's a solution, a remedy, a moment of relief for those pesky skin irritations. 
This collection is here to help you tackle those skin issues that have been bugging you. 
How, you ask? 
Well, it's all about the power of nature – bringing a little dose of tranquility to your life and a whole lot of comfort to your irritated skin.
The Essence of Calmness: Chamomile and Calendula
At the heart of our Calm Collection lies a harmonious blend of two nature-inspired wonders: Chamomile and Calendula. 
These premium botanical ingredients have a long history of therapeutic use, known for their remarkable abilities to soothe irritated skin. 
Chamomile, renowned for its gentle yet effective calming properties, works wonders to pacify inflammation and irritation on the skin. 
Calendula, has a healing touch and enhances the soothing effects, making it a perfect companion for sensitive skin.

Gentle and Pure Formulations
The essence of the Calm Collection lies not only in its botanical ingredients but also in its commitment to purity. 
Each product in this collection is crafted with the utmost care, utilizing 100% natural and pure plant ingredients. 
Harsh chemicals, artificial additives, and even added essential oils are nowhere to be found in these formulations. 
This dedication to natural purity renders these products a sanctuary for everyone, from babies and children to those with dry, sensitive, and inflamed skin. 
Exploring the Calm Collection
Treat yourself to a tranquil escape with the Calendula & Chamomile Calming Bath Soak. 
This harmonious blend of flower essences and magnesium salts transforms your bath into a haven of relaxation. 
As the calming botanicals gently caress your skin, any signs of irritation dissipate, leaving behind a sense of serenity. 
Enriched with oats, this soak bestows a silky smoothness upon your skin, enhancing moisture and hydration. 
Suitable for all skin types, it is perfect for those dealing with dryness, itchiness, or irritation. 



When your skin yearns for calmness and hydration, the Calendula and Chamomile Calm Skin Balm comes to the rescue. 
This botanical gem brings together the power of nature's healing properties and essential vitamins to soothe, soften, and protect dry, sensitive, and irritated skin. 
Packed with antibacterial and anti-inflammatory elements, it becomes a trusty ally in addressing skin conditions like eczema, chapped skin, and diaper rash.
The Calm Body Oil offers this experience, a blend of Avocado, Apricot, Grapeseed, and Sunflower oils crafted to nourish and hydrate your skin. 
This multi-use botanical oil can be your daily companion, a massage oil, or an addition to your bath for a truly indulgent experience. 
Universally appealing, it is especially beneficial for those seeking relief from irritated and sensitive skin. 
Fortified with Vitamin E, it enhances the sensation of soothing nourishment, reminding you to embrace the moments of calm that life offers.
An Embrace of Calmness: Benefits for Various Skin Conditions
The Calm Collection has been thoughtfully curated to provide relief for an array of skin conditions, including:
Dry Skin: Experience the hydrating embrace that brings moisture back to parched skin.
Sunburn and Windburn: Allow calming botanicals to alleviate discomfort and redness.
Eczema: Harness the power of nature to soothe inflammation and irritation.
Rashes and Inflamed Skin: Find comfort in the Calm Collection's soothing formulations.
Diaper Rash: Protect and heal delicate skin with the balm's antibacterial properties.
Bug Bites: Experience relief from itchiness and discomfort.


In Conclusion: Embrace Calm
Our Calm Collection stands as a testament to the healing power of nature, providing a sanctuary for irritated skin of all ages, even the most delicate. 
From babies to children and eneryone else, these products offer a harmonious blend of botanical ingredients that gently restore balance and calmness. 
The absence of harsh chemicals and artificial additives ensures that each application is a step toward healthier, happier skin. 
Remember that nature's healing touch is always within reach.