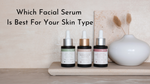 The Benefits of Face Serum - Which Serum Is Best for Your Skin Type.
Are you searching for a way to amp up your skincare routine?

Maybe your skin is feeling a little dry, congested or irritated and you're on the hunt for a fix.
Serums offer a powerful dose of active ingredients that can transform your skin from drab to fab!
As long as you find the right serum for your skin type, remain patient, and apply your serum twice a day, your skin will be thanking you in no time!
So, are you curious to know exactly what face serums are, or which serum is right for you?
Let's look at the three most common skin types, which serum is best for each, and what active ingredients you should be looking for to help with your skin concerns.
"I struggle with dry skin"
Dry skin can have many causes such as a dry environment, use of the wrong products for your skin type, inadequate hydration, swimming in a chlorinated pool or saltwater, or even overwashing. 
As long as there is not an underlying issue, with the right skincare, this can be helped!
Ingredients such as rose, pomegranate or lavender are lovely options for those who suffer from dry skin, here's why:
Rosehip: Rosehips have become increasingly popular as an ingredient in skincare, and it isn't difficult to see why. Roses have had a long history of use in medicine and beauty since their domestication. They were considered so valuable in the 1600s, they were often used as payment and were highly prized by royalty.
Rosehip oil acts as a fantastic emollient to hydrate the skin, protecting the skin from moisture loss and preventing toxins from entering the skin. The skin's moisture barrier is a critical part of the immune system and helps the skin maintain its ideal level of nutrients.
Fun fact: If you strip your skin of moisture using harsh cleansers, your skin is likely to start over-producing oil to compensate. Rosehip can help balance the hydration of skin, which in turn can help prevent excess oil production.
Lavender: For centuries lavender has been applied to the skin to treat numerous conditions. The versatility of lavender makes it a favoured ingredient to add to topical solutions such as facial skincare products. Lavender can be used as an ingredient to neutralize the skin, control dryness, and plump up the skin. 
Fun fact: The natural antimicrobial and antioxidant properties in lavender refresh and neutralize the skin, helping to clear bacteria and excess oil.
Lavender improves circulation by adding oxygen to the skin cells. With the much-needed oxygen, the skin cells are granted a boost of energy and kick-started into growing new cells. The regeneration of new skin cells gives your skin that healthy glow. Lavender can also help to equalize the skin's pH balance, leading to more supple and healthy-looking skin without dry or flaky patches.
Pomegranate:  Pomegranate is a rich source of vitamin C, which research has proven is effective in treating dull and dry skin. It also boosts the production of collagen, improving the skin's elasticity and making it softer, plumper, and youthful.
Additionally, Pomegranate has a high level of antioxidants that help protect the skin against damage from free radicals that also make the skin look aged.
Fun Fact: Pomegranates have anti-ageing properties and bioflavonoids that make them great for skin protection.
If you want to have a taste of royalty and treat your skin to some extra special hydration, try our Forever Young Facial Serum. This powerful serum will help to repair and prevent sun damage, reduce wrinkles and scars, and improve skin tone, elasticity, and texture, leaving you with soft, smooth, and youthful-looking skin.




"I struggle with dull skin"
In skin care, dullness essentially refers to a lack of radiance or an inability to reflect light well, resulting in dry, patchy, or ashy-looking skin.
This can happen as a result of not enough exfoliating, your environment, stress, your diet, and of course, using the wrong skincare products.
Having glowing, bright and awake skin is an aim we all have but it does require an understanding of what your skin needs.
Ingredients such as squalane, rosehips, or sea buckthorn are fantastic choices for those who deal with dull skin, here's why:
Squalane: Squalane is found in a variety of sources, including olives and amaranth. It is naturally found in our skin as well and is odourless, colourless, and has a gel-like texture.
On top of being a great moisturizer, squalane may also be an effective anti-ageing ingredient, helping to lessen the appearance of fine lines and wrinkles, due to its ability to absorb so deeply.
It might also combat ageing by protecting the skin from UV rays which destroy skin cells and damage the skin's natural collagen, cause uneven skin tone and create age spots.
Fun fact: It might be a tiny fruit, but olives are packed with vitamin E and other antioxidants which is why we use olive squalane in our products.
Sea Buckthorn: Sea buckthorn oil has been used for thousands of years as a natural remedy for various ailments. It's rich in unsaturated fat, antioxidants, phytosterols, carotenoids, and vitamins E and K — all of which function together to promote your skin's renewal.
This magic ingredient is perfect for moisturizing skin while regulating oil, improving skin tone and vibrancy, and decreasing fine lines or wrinkles. 
Fun fact: Sea buckthorn helps to prevent trans-epidermal water loss, which helps the skin to maintain its lipid barrier.
Rosehips: Unlike rose oil, which is extracted from rose petals, rosehip oil is pressed from the fruit and seeds of the rose plant. Prized since ancient times for its valuable healing benefits, rosehip oil is loaded with skin-nourishing vitamins and essential fatty acids. It also contains phenols that have been shown to have antiviral, antibacterial, and antifungal properties.
Rosehip oil contains a wealth of essential fatty acids, including linoleic and linolenic acid. Fatty acids help keep cell walls strong so they don't lose water. Thanks to the high concentration of vitamin A, rosehip oil can help reduce dullness and leave you with glowing, vibrant skin.
Fun Fact: Rosehip oil may help calm irritation resulting from rosacea, psoriasis, eczema, or dermatitis.
If you are on the hunt for vibrant, glowing skin, try our Radiant Glow Facial Serum. This serum is rich in antioxidants and vitamins to help regenerate, hydrate and revive skin cells for a radiant glow.


"I struggle with breakouts"
A breakout (or acne) happens when a pore gets clogged with dead skin cells, sebum/oil, and possibly bacteria. 
This later makes its way up to the skin's surface, resulting in a whitehead, a blackhead, or another form of acne.
Ingredients such as rosemary, calendula, geranium are incredible choices for those who deal with breakouts or acne-prone skin, here's why:
Rosemary: With its powerful antibacterial qualities, rosemary oil helps fight bacteria from getting into your pores. This quality, combined with its non-comedogenic effects, means the oil both clears out pores and forms a protective barrier against future breakouts.
Rosemary is also a good source of several vital nutrients for the skin including iron, calcium, and vitamin B6. These nutrients promote collagen production, which promotes healthy skin.
Fun fact: Rosemary has astringent properties that help dissolve oil residue, cleansing your face and keeping it oil-free without turning your skin dry.
Calendula: Calendula can help soothe contact dermatitis, eczema, and acne breakouts from free radicals caused by harmful environmental conditions. Its antibacterial properties kill off the damaging free radicals and help to heal damaged skin.
Calendula can encourage the healing process, enhance the appearance of the skin, reduce inflammation, promote blood flow to the skin cells, and provide antioxidant protection to reduce fine lines, wrinkles, age spots, and scars.
Fun fact: The many benefits of calendula are owing to the substantial levels of triterpenoids, flavonoids, carotenoids, saponins and polysaccharides.
Geranium: Geranium oil is highly soothing when applied to your complexion. Used topically, its anti-inflammatory and antibacterial properties can purify and soothe your skin. It even provides your skin with a dose of radiance!
Studies on geranium essential oil indicated that its antimicrobial and antiseptic properties make it beneficial for reducing acne breakouts, skin irritation, and skin infections.
Fun Fact: Because geranium oil is an astringent, it can tighten skin, reduce the presence of wrinkles, and slow premature ageing.
If you are searching for something to balance or calm your irritated skin, try our Balancing Facial Serum. Great for normal, oily, combination, or breakout-prone skin, this lightweight and non-greasy serum will add calm and balance to your routine.


In closing…
Face serums contain a high concentration of active ingredients that absorb quickly into your skin. Some serums help to brighten your skin or reduce blemishes, while others focus on increasing hydration or combating the signs of ageing.
If you're still not sure which face serum is right for you, send us a message and allow us to help you decide!
Share your purchases and facial care routines with us on Instagram at @emeraldearthorganicspa!