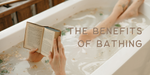 The Many Benefits of Bathing
The Surprising Benefits of Bathing
We love warm Summer days as much as anyone but when the air gets a little crisper and the nights get a little longer, it can only mean one thing: it's bath season! 
For many of us, we don't need a reason to have a bath but there's really nothing better than finding out that something pleasurable is actually good for you.
This is why we're so excited to share with you that luxuriating in a long, hot bath actually has healing benefits. 
There are longstanding cultural traditions surrounding bathing such as the Japanese tradition of bathing known as onsen or the Roman bath-houses. 
So, aside from the obvious relaxation you feel whilst soaking in a warm bath, what's so great about getting in the tub?
Improve Cold or Flu Symptoms
When fighting a cold, your throat and sinuses can become inflamed, leaving you feeling sore and achy. Breathing in steamy air while you're in the tub can bring relief from the heat and moisture. And if you add in something minty such as our Mountain Fresh Essential Oil Blend, you'll be on the road to recovery in no time.
Enhance Sleep Quality
You've probably noticed that soaking in a bath can leave you feeling calm, relaxed, and maybe even a little sleepy. As the cool air hits your skin when you step out of your bath, your brain releases melatonin, a hormone that helps you fall asleep. You can try adding our Lavender + Rose Relaxing Bath Salts for an extra cozy experience.


Soothe Sore & Tired Muscles
Cold water baths used to be prescribed to ease pain and improve poor health. Today, healthcare professionals claim that ice cold baths reduce the lactic acid that builds up in muscles after intense exercise. If you can't even think about having an ice-cold bath in the cooler months, try adding our Eucalyptus & Mint Sports Bath Salts which are filled with powerful magnesium-rich epsom salts.


Relieve Troubled Skin
A bath filled with soothing ingredients can help calm down dry, irritated skin. Our Calendula & Chamomile Calming Bath Soak is filled with a soothing blend of flowers, oats, and magnesium salts that help to relieve, nourish and hydrate irritated skin. Finish off with our Calendula and Chamomile Calm Skin Balm for a double dose of skin-loving, calming ingredients.
On top of these amazing benefits, we all know cooler days mean extended soaks in the tub begin to sound more appealing.
So, here are our suggestions for having the ultimate cold-weather bath experience:
Moisturizing
Dry autumn and winter air can leave the skin feeling dehydrated. Adding an extra moisturizing bath product can help you achieve soft, supple skin while in the comfort of your warm tub. We suggest trying something like our Calm Unscented Body Oil, which is jam-packed with hydrating ingredients such as apricot, avocado, grapeseed and sunflower oils, and vitamin E. Add 10 pumps of oil to a warm bath and let the nourishing plant oils hydrate your skin.


Mood-Boosting
As the days get shorter, and days usually become grey and dreary, it's not unusual to feel more melancholic than in the warmer months. If you're someone who really misses summer, a mood-boosting soak may be just the thing you've been searching for. The blend of apricot, sweet orange, grapefruit, and lemongrass oils in our Energize Citrus Body Oil will leave you feeling refreshed, revitalized, and ready to take on the world. 
Luxurious
Autumn and winter are usually filled with fun holiday parties to attend and there is no better time to soak in a luxurious bath than in preparation for the big event. There is truly nothing more luxurious than roses, so why not pop a couple of our Decadent Rose Bath Truffles for a deliciously, decadent experience? Extra points if you sprinkle in a few rose petals and pour a glass of your favourite beverage to boot!





What are you waiting for......

SHOP EMERALD EARTH BOTANICAL BATH TREATS
There is never a reason needed to hop in a warm bath but it is always lovely to know you're actually improving your health whilst you're doing so!
Share your favourite bathtime treat with us on Instagram at @emeraldearthorganicspa or by using the hashtag #myemeraldearth.
We can't wait to see what you create!