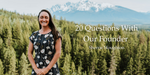 20 Questions with our Founder; SHERRIE HOUGHTON
Between creating new products for your glowing natural skin and trekking through the Rocky Mountains of British Columbia (and beyond), our Founder Sherrie Houghton sat down with us to answer 20 questions so that we can get to know the mind behind Emerald Earth a little bit more. From what motivates her, life in the mountains and behind the scenes of being an entrepreneur and small business owner,
Sherrie shares it all:


Where did you grow up?
In a small beach town on the Central Coast of NSW Australia
When and why did you move to Canada?
In 2009, I decided to come to Canada on a working holiday visa as I wanted to see the Canadian Rocky Mountains, learn to snowboard, and experience real winter and mountain life. I thought I was coming for 1 ski season, 13 years later, I am still here.
Where do you live now? And what do you love about that town?
I am currently living in a small rural village in Northern British Columbia called Valemount. It has a general population of 1000 people. I love that we live in the wilderness, surrounded by mountains as far as the eye can see. This gives unlimited opportunity for outdoor adventures and time in nature.
What are your favourite activities to do in the mountains?
Anything outdoor in nature. The more remote and wild, the better.
In the summer; I love hiking deep into the mountains, the wildflowers are just the best. I enjoy canoeing, kayaking, backcountry camping. I have recently gotten into mountain biking, I'm not a huge fan of downhill biking but love cross-country biking.

In the Winter: I enjoy snowboarding, cross-country skiing, ice skating, ski touring and am lucky enough to go heli-skiing throughout the season.





Who are your top adventure buddies?


My husband Todd and our dog Oscar, he is always up for all the adventures.

We hear you like to travel, what is one of the best places you have explored and why?
I have traveled extensively around the world and have visited over 50 countries, so this is a difficult question to answer as they are all unique experiences. In 2016 I lived in Sri Lanka for 6 months, and this has to be at the top of my list. Beautiful landscapes, kind people, delicious fresh foods, exotic jungles, wildlife, ayuravedic natural medicine and great surfing beaches. It ticks all the boxes.
What is something not many people would know about you?

I grew up in Australia as a competitive surfer and competed in various events around the world for 20 years. I have competed both at the Australian National Titles and Canada National Titles.



What are your guilty pleasures?
Eating dessert for breakfast with my morning coffee.
What are your favourite foods?
Cheese !!!!  
Charcuterie
Pizza
Indian Curry
Fish Tacos


Who is your hero?
Kelly Slater: 11 times world surfing champion and is currently still competing in the World Surfing League at the age of 50. This shows commitment, motivation, determination, focus, passion, healthy lifestyle choices, and a successful career in doing what you love and following your dreams.

What motivates you to work hard?
I work hard to play hard. I am a bit of a perfectionist, so what ever I set my mind to do, I do it to the fullest of my capability. I work hard, get the job done, then enjoy my time off to enjoy nature and the recreational activities that make me happy.
What is your everyday skin care routine?
What is one Emerald Earth product you couldn't live without?
I couldn't live without the Radiant Glow Facial Serum: It really does it all. Gives my skin an extra boost of vitamins, minerals, potent botanicals and antioxidants. Hydrates the skin, for a rejuvenated, smooth glowing appearance.
What is the one Emerald Earth product you think everyone should use?
I would have to say Rosemary + Citrus Facial Cleansing Oil. It is gentle enough for most skin types and has all the ingredients you need for a clean, rejuvenated base.
What is your favourite way to unwind after a busy day? 
Long hot bath, glass of wine, mini spa facial and an episode of netflix
What are you watching on Netflix right now?
"This is Us": I'm watching the final season right now, and sad it will be over soon, its a great one to watch in the bath when I'm enjoying some "me time"
What is your favourite thing about your job?

Getting creative in my studio. Writing new formulas and trying out new products. I love having access to an endless supply of skincare products and bath goodies.

How do you define success?
Making a living from doing something that makes you happy and you are passionate about.  Also, hearing feedback from all my happy customers makes all the hard work worth it!
What are three words you would use to describe yourself?

Organized, passionate, adventurous
What advice would you give your 15 year old self?
You don't have to decide what you want to do with your  life right now, it will eventually fall into place when the time is right. Follow your dreams and passions, see the world and meet new people. 
What three things do you struggle with the most as a small business owner.
Marketing: I find it impossible to keep up with all the social media trends and all the digital marketing platforms. They're constantly changing!
Loneliness: Being a self-employed small business owner can be very isolating at times, especially when located in a remote community. It would be great to have a small team of people to help out and socialize with!
Boundaries: As an entrepreneur it can be hard to clock off at the end of the day. I set my own hours but it isn't easy to simply turn my brain off.
What do you love about being your own boss?
Creating my own work schedule. Finding the perfect work / life balance, and making time for myself, my family and to do the things we enjoy together.
What advice would you give to aspiring entrepreneurs?
Be persistent, don't give up! Its ok to ask for help and outsource the jobs that are not your favourite thing to do or are simply not your strengths.
What are your Business Goals for 2023:
I would love to connect with other small business owners, create new partnerships, and to have my products featured in more stores and spa's across Canada. I'm hoping to improve my sales and marketing skills, and you can expect to see the launch of my new rebranded label designs!
Anything NEW we can expect to see from Emerald Earth in 2023:
Well I have just completed a huge rebranding of by label designs and this has just been launched. Customers can expect to find a clean, natural yet elegant look of our products, and eco-friendly packaging. I also have a few new formulas I am currently experimenting with, including two new face masks and some "Sun Protection" products for the summer I hope to release soon. Keep your eyes peeled on this space!
Cheers to our 4th year in Business, and thank you to all our customers and business partnerships who have continued to motivate, encourage, inspire and support me on this journey.
Remember to follow us on the socials to keep upto date with what's new. We have a lot of exciting sales, promotions, giveaway and announcements happening throughout this month, and you will not want to miss out.



@emeraldearthorganicspa #myemeraldearth