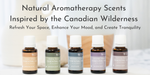 Natural Aromatherapy Scents Inspired by the Canadian Wilderness
Refresh Your Space, Enhance Your Mood, and Create Tranquility
There is something about the great outdoors that just makes us feel alive. Maybe it's the fresh air, the sound of birds singing, or the rustling of leaves in the wind. Whatever it is, it's difficult to ignore the fact that nature has a remarkable ability to invigorate our senses, foster a sense of connection, and bring about a profound sense of tranquility. That's why we created our signature aromatherapy blends inspired by the Canadian wilderness to help you bring a little bit of that tranquillity into your everyday life.
Our essential oil blends are carefully crafted to help you relax, energize, ground, and find clarity. Whether you're in need of a pick-me-up, some relief from muscle aches, or just a little bit of peace and quiet, we have an aromatherapy blend that's perfect for you. Here is what you should purchase depending on the mood or benefit you're searching for:
Energizing & Uplifting
Summer Citrus Essential Oil Blend: 
When you're feeling down and need a quick pick-me-up, our Summer Citrus blend is just what you need. This zesty blend of grapefruit, sweet orange, lemongrass, bergamot, and lime is designed to elevate your mood and help you feel refreshed. The bright and sunny scents of citrus will help you feel energized and uplifted, making it the perfect choice for those mornings when you need a little extra motivation.
Summer Sunshine Aromatherapy Room Spray:

Looking for a burst of energy to get you through the day? Experience the benefits of this vibrant blend by spritzing it around your home, on your linens, or in your vehicle. Let the refreshing scents of Summer Sunshine brighten up your day and help you stay energized and refreshed all day long!
Grounding & Clarity
Alpine Forest Essential Oil Blend:
If you're feeling scattered and need some help finding clarity, our Alpine Forest blend is just what you need. This grounding blend of cedarwood, pine, spruce, bergamot, and sage is designed to help you connect with nature and find your center. The earthy, woodsy scents of cedar, spruce, and pine are complemented by the fresh and cleansing scents of bergamot and sage, creating a calm and clear atmosphere that will help you focus and find your way.
Walk in the Woods Aromatherapy Room Spray:
Step into the tranquility of the forest with our Walk in the Woods Room Spray. Infused with the scents of nature, it will help you unwind and clear your mind after a long day. Simply spray it around your room, office, or car, and let the soothing aroma take you on a journey through the woods. Get grounded and embrace the calming power of nature with this room spray.
Refresh, Relieve & Recover
Mountain Fresh Essential Oil Blend: 
When you need to hit the refresh button and give yourself some relief, our Mountain Fresh blend is just what you need. This cooling and clearing blend of peppermint, eucalyptus, rosemary, lemongrass, and wintergreen is designed to help relieve muscle aches and pains, as well as respiratory congestion. The minty and refreshing scents of peppermint and eucalyptus will help you feel more awake and alert, while the soothing scents of rosemary, lemongrass, and wintergreen will help you feel more relaxed and at ease.


Fresh Mountain Air Aromatherapy Room Spray:
Transform your space into a mountain retreat with our refreshing essential oil room spray. Our invigorating blend of eucalyptus, peppermint, rosemary, wintergreen and lemongrass will transport you to the top of a mountain where you can breathe in the fresh and crisp air. Refresh your surroundings with our all-natural essential oil blend and give yourself a rejuvenating boost that will leave you feeling renewed and ready to take on the day.
Relax, Calm & Unwind
Lavender Bloom Essential Oil Blend:
When you need to unwind and create your own personal oasis of relaxation, our Lavender Bloom blend is just what you need. The soothing and floral scents of lavender and ylang-ylang are complemented by the uplifting scents of rose geranium and mandarin, creating a harmonious and relaxing atmosphere that will help you unwind and let go of stress.
Wild Flowers Aromatherapy Room Spray:
Breathe in the sweet fragrance of a blooming meadow with our Wild Flowers Room Spray! Bursting with the natural scents of lavender, ylang-ylang, rose geranium, clary sage and mandarin, this spray will transport you to a field of vibrant wildflowers in full bloom. Experience the calming and soothing effects of this all-natural blend, perfect for creating a relaxing and tranquil atmosphere in any room. Let the essence of wildflowers fill your home with a delightful floral aroma that will leave you feeling refreshed and revitalized.
Comfort & Cozy
Vanilla Spice Essential Oil Blend: 
When you need to feel comfortable and cozy, our Vanilla Spice blend is just what you need. This warm and comforting blend of vanilla, cinnamon, clove, sweet orange, and ginger is designed to delight your senses and warm your soul. The sweet and spicy scents of cinnamon, clove, and ginger are complemented by the cozy and comforting scents of vanilla and sweet orange, creating a warm and inviting atmosphere that will help you feel more at home.
Welcome Home Aromatherapy Room Spray
Step into your cozy sanctuary with our Welcome Home Room Spray, infused with the warm and inviting scents of vanilla, cinnamon, clove, sweet orange, and ginger. Whether you've been away for a long day or a long vacation, our spray will instantly transport you back to your own personal oasis of comfort and relaxation. Simply spritz around your living space, settle in, and let the comforting aroma envelope you. It's the perfect way to create a warm and welcoming atmosphere for yourself and your guests. Welcome home!
In conclusion…
Whether you're looking to unwind and relax, boost your mood and energy, or alleviate stress and anxiety, our collection of essential oil blends and room sprays has got you covered. With carefully selected ingredients to fit any mood, problem or benefit, you can create the perfect atmosphere and elevate your daily experience. 
At Emerald Earth, we believe in the power of nature and its ability to enhance our well-being, and we are dedicated to providing you with the highest quality natural products to help you reconnect with yourself and the world around you. 
So why not try one of our signature blends and see the difference for yourself?
Have you tried our Aromatherapy collection? Share your new products or your experience with us on Instagram at @emeraldearthorganicspa or by using the hashtag #myemeraldearth.