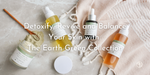 Detoxify, Revive and Balance your Skin with the Earth Green Collection
Our skin is exposed to various environmental stressors, from pollution to UV rays, that can cause damage and contribute to skin aging. For those with oily skin, excess sebum production can lead to clogged pores, breakouts, and a dull complexion. Our Earth Green Collection has been designed with these concerns in mind, offering a range of products that work together to cleanse, detoxify, and balance the skin. 
Let's take a look at some of these key ingredients and products:
Rosemary:
One of the key ingredients in our Earth Green Collection is rosemary, which has been used for centuries for its medicinal and cosmetic properties. Rosemary is a natural antiseptic and has antibacterial properties, making it an excellent ingredient for treating acne and preventing breakouts. It also helps to stimulate circulation and promote cell regeneration, leaving your skin looking more youthful and refreshed.
Although this ingredient is featured in all of our Earth Green Collection, it is the star of our Rosemary & Citrus Cleansing Oil. This carefully crafted cleansing oil is more than just a simple makeup remover or facial cleanser. With its unique blend of natural oils and extracts, it provides a deep cleanse that revitalizes your skin and leaves it feeling nourished and refreshed.
Our cleansing oil also features a blend of citrus oils, which help to refresh and invigorate your skin while providing additional antiseptic benefits. Together, these ingredients create a luxurious and effective cleansing experience that is sure to become a beloved part of your daily skincare routine. 


Cucumber:
Cucumber extract is a powerful ingredient that offers numerous benefits for the skin. Known for its soothing and cooling properties, it helps to reduce inflammation and irritation, making it ideal for those with sensitive skin. Its high water content also makes it an excellent hydrator, providing the skin with a refreshing dose of moisture.
In addition to its hydrating properties, cucumber extract is also rich in antioxidants, including vitamin C and beta-carotene. These powerful antioxidants help to protect the skin from environmental stressors such as pollution and UV radiation, which can cause premature aging and damage to the skin.
Our Cucumber and Aloe Facial Toner combines cucumber extract with Aloe Vera Leaf Juice, Rosemary Flower Water, and Witch Hazel to create a powerful and effective toner that helps to soothe and hydrate the skin. Aloe Vera Leaf Juice is another ingredient that offers a range of benefits for the skin, including soothing and hydrating properties. Witch Hazel is a natural astringent that helps to tighten and tone the skin, reducing the appearance of pores and promoting a smoother, more even complexion.
Together, these natural ingredients work in harmony to create a refreshing, hydrating, and nourishing facial toner that helps to balance and restore the skin's natural pH levels, leaving you with a healthier, more radiant complexion. 
French Green Clay:
Another incredible ingredient found in our Earth Green Collection is French Green Clay, which is renowned for its cleansing and absorbing properties. French Green Clay, found in our Detox Green Clay Mask, is rich in minerals and nutrients that help to remove impurities, unclog pores, and improve skin texture. 
Perfect for anyone seeking to reveal soft and radiant skin, our Detox Green Clay Mask features a combination of natural French Green and Fullers Earth Clay that effectively cleanse and absorb impurities from deep within your pores. The easy-to-apply formula is enriched with botanical extracts that not only reduce acne and bacteria build-up but also tone and firm your skin, providing an overall youthful and revitalized appearance.
Kelp:
Kelp, a type of seaweed, has been known for its incredible nourishing and hydrating properties that can promote healthy and youthful skin. Its ability to detoxify the skin while reducing fine lines and wrinkles has made it a popular ingredient in the beauty industry. Our Kelp + Green Tea Mineral Mud Mask takes kelp's nourishing benefits to the next level by combining it with purifying mineral mud from the Dead Sea.
This luxurious mud mask is packed with antioxidants, vitamins, minerals, and nutrients that help to draw out excess oil and impurities from the skin, while also firming, toning, and refreshing it. The anti-aging and antibacterial properties of this mask aid in accelerating the skin's detoxification process, resulting in a healthier and clearer complexion.
In addition to kelp, our Kelp + Green Tea Mineral Mud Mask also contains Green Tea caffeine and Pink Grapefruit Essential Oil. These ingredients work together to add an energizing touch to your skincare routine, uplifting and revitalizing your skin cells for a radiant and glowing complexion.
Calendula:
Calendula is a powerful ingredient that's been used for centuries in skincare. Its anti-inflammatory properties make it perfect for soothing and healing irritated or sensitive skin, while its anti-bacterial properties help to keep acne and breakouts at bay. In our Balancing Facial Serum, we've combined the benefits of Calendula with Geranium and Eucalyptus, two other plant extracts known for their healing properties.
The Calendula, Geranium, and Eucalyptus work together to regulate sebum production, which is important for balancing oily or combination skin. By regulating sebum production, you can prevent breakouts and keep your skin looking and feeling healthy. In addition, the combination of these three ingredients promotes skin cell regeneration, which means that your skin will look more youthful and toned.
To create a nourishing and non-greasy serum, we've also added grapeseed oil, jojoba oil, and evening primrose oil. These lightweight oils are easily absorbed by the skin, leaving it feeling soft and hydrated without clogging pores. 
Overall, our Earth Green Collection is a powerful and effective range of skincare products that will leave your skin feeling refreshed, revitalized, and balanced. Whether you're dealing with oily skin, acne, or just looking to give your skin some extra TLC, this collection may be your answer.
Have you tried our Earth Green Collection? Share your new products or your experience with us on Instagram at @emeraldearthorganicspa or by using the hashtag #myemeraldearth.