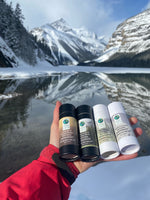 5 Benefits of Switching to Natural Deodorant
5 Benefits of Switching to Natural Deodorant
Sweating is a natural part of life. It's a necessary process that your body goes through every single day. Unfortunately, many store-bought deodorants contain chemicals and other ingredients that can cause skin irritation and clog up pores, preventing your body from doing what it needs to do - detoxifying.
What's the solution? Natural deodorant.
Natural deodorant has benefits both for your skin and the environment. What's even better? It's just as effective as the traditional deodorants that you might be used to. 
There are so many reasons to make the switch, but let's start off with our top five reasons to use natural deodorant - and how this might be an easier adjustment than you first thought.

1. It Helps to Control Odour Naturally

Contrary to popular belief, sweat isn't the culprit of body odour. What causes that not-so-pleasant smell is actually your sweat combined with the bacteria on your skin. When the aluminum and other chemicals in your traditional antipersperant/deodorant build up on the skin, they mix with the sweat and can make the odour even worse.

Our Emerald Earth Natural Deodorants don't stop you from sweating, instead, they are designed to kill bad bacteria. Rest easy knowing that we use skin-loving ingredients such as Magnesium Hydroxide, Kaolin Clay, and Arrowroot Powder to counteract any odour-causing bacteria on the surface of the skin without affecting the dermis – the layer of skin where sweat glands are contained.
Aluminum-free, paraben-free, and sulphate-free, these natural deodorants will not stain your clothes or lead to other smelly side effects!

2. It Allows You to Sweat
Sweating is your body's natural cooling mechanism. It is how your body regulates its temperature. Your sweat leaves through your skin through your pores, evaporating on the outside, eventually leading to a cooling of your body.
Not sweating at all isn't normal or healthy. The chemical-laden deodorant sticks you might find at the local pharmacy tend to plug your sweat glands and make it impossible for your body to sweat the way it's designed to do. This could cause long-term problems for your skin's delicate ecosystem.

Note that it could take 2-4 weeks to detox and rebalance the natural ecosystem of your underarms when switching from harmful chemicals to natural deodorants. However, it will be well worth it, and you can enjoy life knowing that you're free from the harmful chemicals and ingredients of the drugstore deodorants and antiperspirants.

3. You Aren't Putting Toxins On Your Body

As mentioned previously, regular drugstore deodorants often contain chemicals that you probably do not want sitting on your body. Approximately 60% of chemicals applied to the skin can be absorbed directly into the body, so understanding the contents of topical products, like deodorant, is essential to your health. 
If you're concerned about protecting your body, choosing a deodorant made with odour-neutralizing botanicals and no artificial ingredients, helps ensure that you get the odour-blocking protection you need while keeping your health and wellbeing in mind.
Our Cedarwood + Juniper Natural Deodorant and Lavender + Sweet Orange Natural Deodorants are enhanced with organic essential oils and baking soda, which is a hard-working formula designed to absorbs moisture and provides a natural fresh scent for the extra active individual.

4. Natural Ingredients Are Skin-Friendly
You have probably experienced the dreaded razor burn or irritation if you are someone who removes the hair from their underarms (or anywhere on your body). So, you're aware of how sensitive and delicate our skin can be. Another benefit of switching to natural deodorant is that you may avoid some of those irritations altogether.

We use plant-based, hydrating ingredients in our deodorants such as shea butter, coconut oil and cocoa butter, which will soothe the skin rather than cause fragrance-based allergic skin rashes. These also create a smooth glide on application to nourish the skin. Like with any new product, it is important to always patch test first before use. 

If you're looking for something suitable for sensitive skin try our Vanilla + Coconut Natural Deodorant or Lemongrass + Tea Tree Natural Deodorant . These scents are Baking Soda FREE and enhanced with organic essential oils which is great for normal to sensitive skin, while keeping your armpits smelling fresh and nourishing your skin.

5. Kinder to the Planet
Choosing a deodorant made with natural, sustainable, and responsible ingredients helps ensure that you get the protection you need while keeping the environment in mind.
At Emerald Earth, we are committed to providing holistic and sustainable beauty products that are effective, eco-friendly and cruelty-free. Plus, our natural deodorants feature eco-friendly paperboard packaging, so you can feel good knowing that your choices aren't damaging to the environment.
In short, making the switch is as easy as changing your daily moisturizer. Natural deodorant works the same way as any other type but in a much healthier, safer, and kinder way. 
Ready to hit the refresh button on your underarms?
Choose one of our natural deodorants, swipe some under your arms and continue with your day smelling fresh.

Our Natural Deodorants are currently on sale for buy 1 get 1 50% OFF!
Sale runs March 28th-April 1. Don't miss out!

SHOP NATURAL DEODORANTS NOW


Our natural deodorants are all packaged using biodegradable paperboard push-up tubes.

Product use: Remove cap, push up the stick, apply deodorant to underarms, tap tube on the counter to help the stick go back down and replace the cap.

Product care: Store in a cool dark place away from direct heat and sunlight, or your natural deodorant stick may melt.