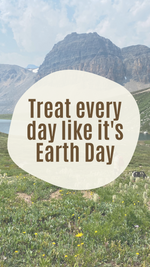 6 ways to Go Green - Earth Day
6 Easy Ways to Go Green


Change starts with you.
We proudly share that as a company, we create eco-friendly and sustainable products. This is something we are passionate about and driven to educate on. 
Taking care of the environment is everybody's business and as we only have one Earth, we need to take care of it.

Although it might feel as though we can't make a difference in the state of our planet, there is good news. You can always make an impact with your money when it comes to environmental protection by purchasing eco-friendly items or sharing the benefit of doing so with your loved ones.

An eco-friendly product is less harmful to the environment than their regular counterparts. If more people started purchasing eco-friendly items, pollution might not be so prominent, our planet would have the ability to regenerate, and our communities would be healthier long-term. 
So, how can you make the switch in your daily life? Here are six simple swaps you can make today:
Recycled or Sustainable Clothing
These days there are a lot of companies that produce eco-friendly clothing.

These items are typically made from recycled materials, which provide a cost-efficient way to make an even better product - win-win! 
Most manufacturers will use the most environmentally sustainable methods possible and work hard to eliminate the use of dyes and minimize chemical, water, and energy use.
We can probably all agree that nothing is as good as that first sip of coffee in the morning. 
That might entail walking to their local coffee shop or hitting up a drive through where they are handed a single-use cup and plastic lid. For these people on-the-go, getting a reusable coffee cup could be the difference.
Purchasing a reusable cup impacts not only how much plastic is used, but how much money is invested in these cups as well. 
Both your wallet and the environment will thank you for this switch.


This is something you have probably heard many times before but it's worth mentioning again. Avoid using plastic bags.

Whenever you go to the grocery store or your local shopping centre, take a reusable shopping bag with you. 
Plastic bag pollution is one of the biggest problems that the Earth is facing. Globally, 1 trillion plastic bags are used every year - a shocking number.

It's harmful to the environment to produce a plastic bag and it's harmful to the environment to not recycle a plastic bag as they can remain in the environment for hundreds of years.


On top of this, plastic bags harm hundreds of marine animals every year. So, it is crucial to restrict our plastic bag use whenever possible. 
You don't need to be 100% plastic-free all of the time but know that every little bit counts.
Chemical Free Cleaning Products
 Cleaning products are one of the most simple, yet effective ways to "go green." 
 Harsh chemicals found in some regular products are not only bad for the environment, they are also bad for humans, since a lot of them are toxic and can cause illness. 
 There are many alternative sustainable options for cleaners, such as vinegar or lemon-juice based cleaners, which are eco-friendly and non-risky. 
 These products can get the home just as clean, without harming the planet or our family. 
Stainless Steel Water Bottles
Another simple yet impactful option is to replace plastic water bottles with a stainless steel reusable one.  
There are many benefits of making this switch beyond just the environmental result.
You can purchase reusable water bottles that are well insulated, keeping your water cooler for longer. Also, you're not spending your money purchasing water every time you leave the home.
Simply fill your water bottle up before walking out the door and stay hydrated all day long.
Eco-Friendly Skin Care and Beauty Products
When you use synthetic and chemical products, not only do they contaminate the air and the water, but they also leave traces of the not-so-nice ingredients on your skin.
As a matter of fact, your skin absorbs anything and everything that you put on it. 
This is why we will always be proud to say we are eco-friendly and sustainable. We want to offer you an affordable option for your skincare that  won't harm the environment and will actually nourish your skin.
By using sustainable products, you are supporting your health, the health of the ecosystems around you and the health of our planet.
So, are you ready to make the switch to a more eco-friendly lifestyle?
We are currently holding a sale for 25% off store-wide from April 25th until May 1st. Why wait?
There is no better time than the present to make a difference in the way we consume.