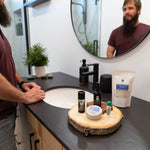 Our Guide to the Best Skin and Body Products for Men
Men have traditionally kept it simple when it comes to their skin care routines. However, more men are becoming interested in taking care of their body's largest organ. Healthier skin and natural products have become a hot topic for both men and women, making it a great time for men to assess their skin and body care habits and learn more about how to select the right products for them. 
With the number of products online, it can become a daunting task to educate yourself on where to even begin with curating a skin and body care routine that works for you. Especially if you are searching for one with natural ingredients that aren't going to harm the earth.

This is why we've created a line of products designed to work on any skin type, using all natural, cleansing, calming, and hydrating ingredients. 
So, whether you are in search of something to buy for a special man in your life or you are looking for products for yourself, this should help you narrow down which products will best suit your needs:
Oftentimes, when we think of clean skin, we expect a dry, squeaky-clean feeling. 
Unfortunately, this is actually a sign that we've over-cleansed and have stripped away the good oils on our skin that keep it moisturized. 
To keep your skin's protective barrier healthy, we've designed a luxurious cleansing oil that deep cleans your pores and removes dirt and oil while still leaving your skin feeling nourished and hydrated. 
Suitable for all skin types, this blend of rosemary and citrus cleanses your skin, without drying it out making this a great addition to anyone's daily cleansing routine.



Toner is overlooked frequently as part of a man's skin care routine. However, this is a huge mistake. Toner can be a fantastic way to remove excess dirt from your skin after you've cleansed.

Not only that, but our toners are designed to balance and hydrate your skin, leaving it feeling extra clean, soft, and refreshed.

The combination of cucumber and aloe vera within this toner work to calm and soothe, while rosemary and rose work hard to tone and repair tired, damaged, or dry skin.

Our male customers have shared that this is a great product to use first thing in the morning or directly after a shave.




Wilderness Face & Beard Oil


For those experiencing dryness around their beard and/or skin, this is the ideal product. 
The active ingredients and nutrients within this oil will nourish, cleanse, and condition your beard, face, scalp, and hair.

The lightweight formula means you'll never feel greasy and the pump top ensures getting the plant oils, vitamins, omegas, and antioxidants onto your skin is a breeze.

We've created this product with cedarwood, frankincense and bergamot, leaving you with a soft, earthy scent, perfect for any male skin care routine.

If you're searching for a simple solution or an easy gift, we've put all three of the previously mentioned products into a gift pack. The Men's Everyday Facial Care Kit has everything you need to kickstart your facial skin care routine!




Peppermint Natural Lip Balm
If you love an outdoor adventure, you've probably experienced dry lips. It's never a pleasant feeling but can be easily fixed with the right product.
 Our lip balm is made with beeswax which acts as protection from the elements, while cocoa butter and sunflower oil hydrate chapped and sore lips. 
The peppermint scent will guarantee you're left feeling and smelling fresh.


Filled with natural, nourishing ingredients, this deodorant is designed to absorb underarm moisture and kill the bacteria that can cause bad odours.

Baking soda and organic essential oils combined, work hard to provide a natural scent for even the most active of men.

The best part about our deodorant sticks? They are aluminum free and will not clog pores, stain your clothes, or lead to other harmful side effects, so you can apply them without worry.

All of our deodorants are made for both men and women, however, with the cedarwood and juniper berry scent of this natural deodorant you're sure to be left smelling fresh all day long - no matter how much you sweat!


Arnica & Wintergreen Sports Balm
The last product on our list of the best skin and body care products for men is for those guys who love to stay active.

Our Sports Balm was created to reduce muscle tension, aches, and swelling with the beneficial healing properties of arnica and wintergreen. 
When applied, a gentle warming sensation from the peppermint and ginger soothes and increases circulation, easing muscle and joint pain, and reducing inflammation.
If you or the person you are buying for is the wilderness adventure type, you can find our Peppermint Natural Lip Balm, Cedarwood & Juniper Berry Natural Deodorant and Arnica & Wintergreen Sports Balm in our carefully crafted Backcountry Essentials gift pack.


Keep these products in mind as we approach Father's Day and let us know what you decide to try or purchase by tagging us on Instagram at @emeraldearthorganicspa!