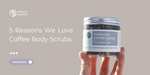 5 Reasons We Love Coffee Body Scrub

Most of us look forward to that first cup of coffee in the morning. The scent of freshly ground coffee, the sound of the coffee machine working its magic, and that instant hit of caffeine - there are few things as great! What you may not be aware of, however, is that those ground coffee beans can be incredibly beneficial for your skin too!
These brilliant beans help reinvigorate the body when applied to the skin. By combining locally roasted VALE COFFEE grounds, sugar, and organic butters we've created a latte experience for your skin, leaving it not only looking good, but feeling great. Take a look at these benefits of using coffee scrubs so you can decide whether you're ready to add one to your beauty routine.


EXFOLIATION:
Exfoliation is a great way to help keep your skin looking and feeling healthy. The ground coffee helps to buff away dead skin cells, dirt and oils from the surface of the skin. This can help to reduce the appearance of wrinkles, blemishes and other skin imperfections. It also helps to prevent clogged pores, which can reduce the risk of developing acne. 
IMPROVES CIRCULATION:
Scrubbing the skin is a great way to stimulate blood flow. This stimulation will help to wake you up and will linger throughout the day or evening after you've used coffee scrub. Our coffee scrubs are made from ingredients that are all-natural and safe for your skin, so you're left feeling rejuvenated, not sore. Redness and blotching are far less likely to happen when using a scrub made from natural products as opposed to one made from harsher, unsafe chemicals.
REDUCES APPEARANCE OF CELLULITE:
Coffee scrubs are a great way to reduce the appearance of cellulite. The caffeine in the coffee helps to improve circulation and reduce inflammation, while the physical exfoliation helps to break up fat deposits and give the skin a smoother appearance. Simply massage the scrub onto the affected area and rinse off with warm water. Doing this once or twice a week can help reduce the appearance of cellulite.



ENHANCES SKIN ELASTICITY:
If you're looking for an all-natural solution for stretch marks, a coffee scrub may be a great option. Coffee scrubs are known to help reduce the appearance of stretch marks, as the caffeine in the coffee helps to temporarily tighten the skin. For best results, look for a scrub that contains natural ingredients like coconut oil and shea butter. Make sure to scrub gently in circular motions and rinse off with warm water. Additionally, drink plenty of water and use a good moisturizer to keep your skin hydrated and supple!
SLOWS SIGNS OF AGEING:
Many people want to fight premature ageing, lines, wrinkles, or sunspots. The antioxidants found in coffee scrub can help you do just that. You'll find your skin looks and feels younger after just a few uses. Coffee scrub can also help reduce the ageing caused by prolonged exposure to the sun. 
How Often Should You Exfoliate?
When it comes to how often you should use it, that is completely up to you. If you have extra dry skin or want to see some serious results, scrub 2-3 times a week. If you're simply doing it to feel softer or you have sensitive skin, 1-2 times a week should do the trick. 
This isn't something you should only be doing in winter either. This is something you can be doing all year round! In winter to buff away dry, flaky skin and in summer to remove excess sweat & sunscreen. Also, in spring and fall because who doesn't love feeling silky smooth?



In Conclusion…
Coffee body scrubs can also help to awaken your senses, smooth your skin and remove impurities. Whether you're new to scrubs or are an experienced scrub user, being open to a coffee scrub can be incredibly beneficial. You will feel refreshed and soothed while your skin displays a beautiful glow. Now is the time to scrub your way to your best skin yet!
Take a picture using your
Vanilla Latte Coffee Scrub
and share it with us on Instagram at
@emeraldearthorganicspa
or by using the hashtag #myemeraldearth.