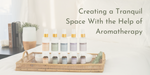 CREATING A TRANQUIL SPACE IN YOUR HOME WITH AROMATHERAPY
In our fast-paced world stress is virtually unavoidable. While driving, at work, at the doctor - it's truly hard to escape. With this being said, we should be able to come home to a stress free environment that is calm, relaxing, and exactly the way you want it to feel. But how do you go about creating such a space? Luckily, with the simple addition of some aromatherapy, your home can transform into the tranquil space you desire.
Although there are other contributing factors to the way you feel inside your home, essential oils are a terrific way to alleviate day-to-day stress, create an uplifting atmosphere or make your home warm and inviting. It only takes a few drops of our potent essential oils or a few mists of our room sprays to spread joy throughout your home.

Here are our tips for creating a peaceful climate within your home:
Invigorate Your Senses With An Essential Oil Infused Bath
Soaking in a warm bath is therapeutic on many levels. Hot baths can relieve sore muscles and joints. Adding essential oils to your bath can bring about even more benefits, including making your bath more of a luxurious occasion. So, which oils should you consider adding to your bath? Although all of our essential oil blends can be used in the bath, here are a couple we recommend:
Mountain Fresh. Give yourself some much needed relief with this cooling and clearing blend of peppermint and eucalyptus which can help to ease muscle aches and pains, and help give some relief for respiratory congestion. The crisp scent of eucalyptus is sharper than other oils so many people find it refreshing and stimulating. Inhaling the vapor can open up your nasal passages similar to menthol or camphor (think Vicks Vaporub).  
Lavender Bloom. Unwind and create your own personal oasis of relaxation with this calming blend of lavender and ylang ylang. The ideal choice for the evening or when you're in need of a little peace and quiet. Lavender's stress-relieving properties make it an effective mood booster for some people and it is also known to relieve pain, inflammation, headaches and more.


Diffuse Essential Oils With A Diffuser
Diffusing essential oils is pretty simple. Simply add water and a few drops of your chosen essential oil, replace the lid, and turn it on. Sit back and relax as you enjoy the health benefits of the cool mist pervading your room. Let the essential oil molecules move through the room, either as a natural air freshener or as a therapeutic scent. A few drops will be enough to do the trick. Not sure what to choose? Here are two of our favourites:
Vanilla Spice. This aromatherapy oil will delight your senses, warm your soul and have you feeling comfortable in your home this winter. Cozy and delightful, this blend will welcome you home like a warm hug.
Summer Citrus. Finding it hard to concentrate? This blend lemongrass oil, sweet orange oil, and bergamot can help boost energy, improve focus and have a positive impact on mental clarity. Essential oils have a positive impact on your limbic system, helping you to feel more uplifted and balancing emotions.
Use Body Care Infused With Essential Oils
Beauty products infused with essential oils are another way to experience their benefits. All you have to do is apply your lotion or oil to your skin after a warm shower or bath and allow the combined oils to soothe your senses, ease stress and still the mind. Each of our body oils is suited to bring different health benefits, but here are two of our choices for newcomers to the body oil world:
Grounding Forest Body Oil. This body oil, enriched with Vitamin E, Cedarwood, Spruce and Bergamot, is relaxing, stabilising, and calming, and may help with restlessness or during times of chaos. 
Relaxing Floral Body Oil.  Lavender has many benefits, as mentioned before, but one of our favorites is the relaxing effect. It's known to reduce redness, inflammation, and skin irritation, and improves circulation by adding oxygen to the skin cells - plus the added benefit of massaging the oil into your skin will calm you too. 


Spray An Aromatherapy Room Mist
Room sprays have become increasingly popular for a variety of reasons. Some individuals use them to create an aromatic, scented environment, while others prefer to utilize it as it's safer than burning scented candles. These individuals prefer room spray aromas because they dislike the smoke that candles generate when they are lit. Aside from that, the scent tends to linger longer with only a few spritzes. Try these next time you're on the hunt for a new scent: 
Fresh Mountain Air. Hit the refresh button, take a deep breath and smell the fresh mountain air. Give yourself some relief with our cooling and clearing blend. Spray mist around your home, linens and vehicle. 
Walk In The Woods. Bring nature indoors and get grounded. Earthy and invigorating, this room spray will clear your mind - just like a walk in the woods. Spray mist around your home, linens, and vehicle. 
Welcome Home. Vanilla, cinnamon spice and all things nice. Made with pure essential oils, carefully selected to awaken your senses and reconnect you with nature.


In closing…
Essential oils can make a powerful addition to any space in your home. Using them provides numerous benefits for your skin, mental state, insomnia, and more. Unlocking the power of essential oils is easy. You just need to figure out how you're going to use them in your space!
Share your favourite aromatherpy product and how you use yours with us on Instagram at @emeraldearthorganicspa or by using the hashtag #myemeraldearth.