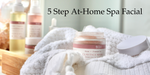 5 Sets At-Home Spa Facial Routine
1. Cleansing Oil : 1-2 daily
WHY? Deep clean, remove dirt, oil, bacteria and make up.
HOW? Using 3 pumps of cleansing oil, rub into damp skin. Wipe off with a warm wet facecloth.



2. Face Mask : 1-2 weekly
WHY? Deep clean, exfoliate, repair and restore skin.
HOW: Apply mask to damp skin, leave on for 15 minutes. Remove with warm water and facecloth.


3. Facial Toner : 1-2 Daily
WHY? Reset skin tone, minimize pores, balance PH levels.
HOW: Spray on skin, allow to absorb.


4. Facial Serum : 1-2 Daily
WHY? Rejuvenate, Repair, Hydrate and Nourish skin
HOW: Apply 5 drops evenly on face, massaging into skin.
5. Face Cream : Day or Night
Day Face Cream : Morning Application
Night Facial Cream : Evening Application
WHY? Deep hydration, restoration and Repair
HOW: Apply a small amount to facial area, massaing into skin.
WHICH PRODUCTS ARE RIGHT FOR YOUR SKIN TYPE
Signature Rose Facial Care
Featuring key ingredients of Rosehip, Chamomile, Lavender, Jojoba & Evening Primrose. To calm, restore, repair and rejuvenate your complexion. Suitable for mature aging skin, fine lines, wrinkles. dry and sensitive skin. Roseacea, sun damage, uneven skin tone.
Earth Green 
Facial Care
Suitable for normal, oily, combination, acne prone, congested, tired and dull skin. To cleanse, detoxify, balance and revive your complexion. Featuring all natural ingredients from the Earth; Rosemary, Grapeseed, Cucumber, Calendula & Green Tea.