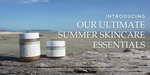 Introducing Our Ultimate Summer Skincare Essentials for Radiant & Protected Skin
It's time to celebrate the season of adventure, relaxation, and rejuvenation. 
However, along with the joyous moments and outdoor escapades, the scorching sun, heat, and other environmental factors can take a toll on our skin. 
That's why we have created three new products to keep your skin protected, hydrated, and nourished throughout all your adventures.
We believe in harnessing the power of nature to create skincare solutions that not only enhance your beauty but also prioritize your skin's health. 
Our new products have been meticulously crafted to address the unique needs of your skin during all of your outdoor adventures, providing a luxurious experience while embracing the benefits of nature's goodness.
Protection: Shielding Your Skin from Summer's Elements
We understand that summer brings with it its fair share of challenges. The intense UV rays, pollution, and free radicals can damage the skin's delicate structure, leading to premature aging, dark spots, and dryness. That's why our Natural Zinc Lip Balm is designed to act as a protective barrier, safeguarding your skin against these harmful elements. This 100% natural lip balm is designed to hydrate, nourish, and protect not only your lips but the rest of your face as well.
What sets our balm apart is the addition of non-nano zinc oxide. This natural mineral ingredient creates a sun-blocking barrier on the skin, offering protection against UVA and UVB radiation. It's like having a mini-sunscreen for your face and lips! 
Simply apply the Zinc balm as needed to your lips, cheeks, nose, and face to aid in sun protection. Please note that our zinc stick may appear slightly white when applied, but it blends in easily and provides a reliable shield against the sun.
The Natural Zinc Lip Balm comes in a convenient twist-up stick, making it easy to carry in your pocket or bag. Take it with you on all your outdoor adventures, whether you're hiking, biking, skiing, surfing, kayaking, or simply enjoying a day at the beach. Your lips and face will stay moisturized, nourished, and protected, so you can focus on having fun under the sun.
Hydration: Quenching Your Skin's Thirst
One of the key concerns during the summer season is dehydration. Excessive sun exposure and higher temperatures can strip away the skin's natural moisture, leaving it dry, dull, and prone to irritation. That's where our Day Face Cream with Meadowfoam + Zinc comes in. This lightweight cream is designed to provide hydration, balance, and sun protection for your skin.
Our Day Face Cream contains all-natural botanicals and minerals to offer a light sun-protective layer for everyday wear. One of the key ingredients is zinc, a natural mineral that creates a barrier on the skin to block UV rays. This helps to prevent sunburn and reduce the risk of sun damage. Meadowfoam, a botanical herb grown in BC Canada, is another star ingredient in our cream. It not only moisturizes and rejuvenates the skin but also provides an additional protective layer against UV rays.
To use the Day Face Cream, simply apply a thin layer to your face in the morning. Take the time to massage it into your skin until it becomes clear, ensuring that the minerals are absorbed to create the protective layer. This cream is light, easily absorbed, and non-greasy, making it suitable for all skin types. Plus, its light and fresh natural scent will leave you feeling refreshed and ready to take on the day.
Nourishment: Feeding Your Skin with Natural Goodness
Your skin deserves the best, and that's precisely what our natural and organic skincare products offer. We carefully select nourishing botanical extracts, essential oils, and plant-based ingredients known for their revitalizing properties. These potent actives penetrate deep into the skin, delivering essential nutrients, vitamins, and minerals that support skin health, repair damage, and promote a vibrant complexion. 
The Apres Gel Face Mask features a cooling gel formula that makes it easy to apply and provides instant relief to your skin. Enriched with botanical ingredients like cucumber, aloe vera, and chamomile, it delivers a burst of hydration and nourishment. Cucumber is known for its cooling properties, while aloe vera and chamomile are renowned for their soothing and calming effects. Together, these ingredients work in harmony to rejuvenate and repair your skin, leaving it ready for your next adventure.
To use the Apres Gel Face Mask, simply apply a thin layer to clean skin and leave it on for 10 to 15 minutes. Then, rinse it off and follow up with our hydrating Cucumber + Aloe Facial Toner and a nourishing Facial Serum to further repair and soothe your damaged skin. Your skin will thank you for this pampering treatment, and you'll be ready to take on whatever comes your way.
Top It All Off with our Radiant Glow Facial Serum to nourish and revive your skin and give it an extra vitamin boost for a healthy glow.

Shine bright and be radiant, with this "liquid gold" facial serum. Packed with nature's superfoods like Olive Squalane, Avocado, Rosehip and Sea Buckthorn, this is our most potent high-end serum. Rich in antioxidants, omegas and vitamins to help regenerate, hydrate and revive skin cells for a radiant glow.

Radiant Glow Facial Serum features a fresh earthy scent to help give your skin a balanced complexion. Perfect for all skin types especially those with uneven skin tone, skin discolouration, dark spots, fine lines and wrinkles, acne breakouts, scarring, dry dull and lackluster skin. Give your skin an extra vitamin boost, because you deserve to look and feel your best. Be radiant and glow!
Embrace the Summer Glow with Emerald Earth
So, there you have it—the perfect trio of summer skincare products to keep your skin cool, calm, and protected. 
Whether you're lounging by the beach, hiking in the mountains, or simply enjoying a backyard barbecue, our skincare products will be your trusted companions, enhancing your skin's beauty while preserving its health.