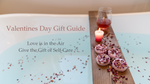 A Valentine's Day Gift Guide for That Special Someone
Valentine's Day is just around the corner, time to think about finding a gift for that special someone. What better way to show your love and appreciation than with a relaxing spa experience? Whether your loved one is in need of some pampering, a relaxing bath or at-home facial, we've got the perfect gift to show them you care.
Whether you're shopping for him or her, we've got you covered with our ultimate Valentine's Day gift guide, featuring natural products to help relax, unwind and rejuvenate. We understand that everyone is different, and that's why we've curated a range of gifts to suit different preferences and personalities. From luxurious bath salts to skin-nourishing body oils, our guide offers a wide range of gifts that are perfect for a spa day at home. Give the gift of self-care this Valentine's Day.
GIFTS FOR HIM:
The Into the Wild Package is the perfect gift for the adventurous man in your life. Formulated with 100% natural plant ingredients, this body care package will keep him feeling fresh, hydrated, and protected on even his wildest of adventures. He'll love the earthy scent of Cedarwood in the Deodorant and Beard Oil, and the invigorating combination of Wintergreen, Eucalyptus, and Peppermint in the Sports Balm to ease his tense and tired muscles. This unique body care experience is made just for him and will help him to connect with nature and unleash his inner wild.
The Mens Daily Facial Kit is specially curated to meet the daily face care needs of men, with a collection of natural and earthy products that are simple, clean, pure, and easy to use. The kit includes a Rosemary & Citrus Facial Cleansing Oil, Cucumber & Aloe Facial Toner, and a Wilderness Face & Beard Oil. The cleansing oil gently removes dirt and impurities, leaving the skin feeling refreshed and clean. The toner helps to balance the skin's pH levels and the face and beard oil will keep his complexion healthy, nourished, and hydrated. He'll love the invigorating scents and the way these products leave his skin feeling refreshed, hydrated, and protected. This is the perfect gift to show how much you care about him.
Looking for something simpler for the man in your life? Our Wilderness Face & Beard Oil is the perfect solution for men looking to nourish, cleanse, and condition their beard, face, scalp, and hair. Made with all-natural and eco-friendly ingredients, this lightweight formula is rich in vitamins, omegas, and antioxidants that will soothe and smooth the skin and leave it feeling refreshed. Suitable for all skin types, this oil is easy to use and will leave him with a softer and smoother touch. The earthy cedarwood scent is pleasant and will complement any routine. Give the gift of a healthy and well-groomed beard!


GIFTS FOR HER:
Indulge her in a luxurious and rejuvenating spa experience with our Absolute Rose Bath & Body Package. This ultimate pampering package is designed to stimulate and nourish her senses with the soothing aroma of roses. The fizzing bath truffle releases a burst of rose petals, creating an indulgent and relaxing bath experience. The added cocoa butter will leave her skin with a silky smooth shimmer finish. After a bath, she can hydrate her skin with the Wild Harvest Rosehip Body Butter Bar, formulated with a blend of luxurious rose, lavender, and cocoa Butter to moisturize and soften her skin. 
The At Home Mini Spa Facial package is the perfect Valentine's Day gift for anyone looking to give their skin some extra love and attention. This collection of luxurious facial products is designed to cleanse, restore, and rejuvenate her complexion, leaving her with a youthful, radiant look. The Lavender & Chamomile Cleansing Oil is gentle yet effective, removing impurities and makeup while leaving her skin feeling soft and nourished. The Rose Pink Clay Face Mask is a luxurious treat for her skin, deeply cleansing and rejuvenating while the Forever Young Facial Serum is packed with antioxidants and botanicals that will help to reduce the appearance of fine lines and wrinkles. This At Home Mini Spa Facial package offers the perfect way to pamper a loved one in the comfort of their own home.
Infused with luxurious botanicals, our Rose + Lavender Whipped Body Butter will leave her skin feeling soft, smooth, and moisturized. Formulated with Rosehip Oil, Lavender, Rose Geranium, and Shea Butter, it is not only good for her skin but also provides a relaxing and soothing aroma that will uplift her senses. Perfect for all skin types, this body butter will protect and prevent damage caused by dryness, leaving your loved one with healthy and nourished skin. 
The antioxidant-rich blend of rosehip, cacao and ancient mineral mud in our Rosehip + Cacao Mineral Mud Mask work together to repair, tone and hydrate her face and body. The mask is infused with a powerful combination of antioxidants, anti-inflammatory, and anti-aging ingredients that nourish and protect her skin. The soothing ingredients promote healthy renewal and restoration of skin cells, leaving her with a more radiant, youthful complexion. Whether she has normal, dry, mature, damaged, or sensitive skin, this mask is suitable for all skin types. Bring the full spa experience to the comfort of her home with the Rosehip & Cacao Mineral Mud Mask. It's the perfect addition to her self-care routine for a relaxing and rejuvenating experience.



GIFTS FOR THE ADVENTURE SEEKERS:
The Apres Adventure: Bath & Body Package is the perfect gift for the active person in your life. Whether they're into hiking, running, cycling, or any other sport, this package will help them to relax and recover after a tough workout. The Mint & Eucalyptus Bath Salts are rich in minerals and natural botanical ingredients, making them the perfect addition to a warm bath to help reduce muscle tension, soreness, cramps, and swelling. The Arnica & Peppermint Balm, on the other hand, increases circulation and decreases inflammation to aid in muscle recovery. Together, these two products make for the ultimate post-workout recovery experience, leaving your loved one feeling refreshed and rejuvenated.
The Backcountry Essentials Gift Set is the perfect companion for any outdoor enthusiast. This package includes all the essentials needed to stay fresh, protected, and comfortable during wilderness adventures. The Cedarwood & Juniper Berry Natural Deodorant is an effective and natural way to keep body odour at bay. The Arnica & Peppermint Sports Balm is a powerful blend of natural ingredients that work together to ease muscle tension and soreness. The Peppermint Natural Lip Balm will provide a soothing and protective barrier from harsh outdoor elements. This gift set is a must-have for anyone who loves spending time in nature.
The Find Your Inner Zen Package is the perfect way to unwind and reconnect with nature. The Alpine Forest Bath Soak is infused with the invigorating scents of cedarwood, pine, and spruce which will transport you to the serene forest. The Cedar + Sage Body Oil is enriched with natural botanicals that deeply moisturize and nourish your skin. The Detox Green Clay Face Mask will help to purify and detoxify your skin, leaving it feeling refreshed and revitalized. The Peppermint Lip Balm will soothe and protect your lips from the outside elements. This package will be perfect to enjoy together and create a relaxing ambiance.


GIFTS TO RELAX AND BE PAMPERED:
The Perfect Night In Package is the ultimate gift for those in need of a little relaxation. Imagine soaking in a warm bath surrounded by the aromas of Rose and Lavender while the natural bath salts ease away muscle tension and mineral-rich clay restores skin. This four-course menu of nourishing, vitamin-rich products will help your loved one to relax, unwind, and truly pamper themselves in luxury. Follow a cleansing bath with the skin-quenching and silky-smooth Lavender + Ylang Ylang Body Oil, topped with a decadent treat for their lips, the Raspberry Lip Balm. 
The Aromatherapy Room Spray: Wild Flowers is the perfect way to add a touch of natural beauty and serenity to the home. Infused with a blend of essential oils, including lavender, ylang-ylang, rose geranium, clary sage, and mandarin, this room spray will help to create a relaxing atmosphere, perfect for unwinding after a long day. Whether they're looking to create a tranquil space in their bedroom, living room, or office, this spray is sure to delight their senses and help to soothe their mind. They can use it to freshen up linens, the inside of their vehicle or anywhere they want to feel relaxed. Allow them to enjoy the soothing and calming benefits of nature in the comfort of their own home with this beautiful aromatherapy room spray.
Gift the Essential Oil Blend Lavender Bloom and allow them to experience the benefits of relaxation, calmness, and unwinding. This blend contains a harmonious balance of lavender, ylang-ylang, Rose Geranium, Clary Sage, and Mandarin, making it the perfect addition to an evening routine or when a moment of tranquillity is needed. Use it in an aromatherapy diffuser to fill the home with its soothing aroma or add a few drops to a bath for a relaxing soak. This can also be diluted with a carrier oil to use topically for a calming massage. This blend is sure to be a well-received gift for anyone in need of a little relaxation and peace.
GIFT FOR THE NEW VALENTINE:
Bring the natural beauty of the woods into your home with the Aromatherapy Room Spray: Walk In The Woods. This invigorating blend of Cedarwood, Pine, Spruce, Bergamot and Sage will not only clear the mind, but it makes the perfect gift for anyone who wants to bring a touch of nature into their living space. Give the gift of a refreshing and grounding experience with this room spray, perfect for misting around the home, linens, and vehicles.
Gift the cozy comfort of Vanilla Spice with this essential oil blend. The combination of vanilla, cinnamon, clove, sweet orange, and ginger creates a warm and inviting aroma that is perfect for the winter months. Use it in an aromatherapy diffuser or add a few drops to a warm bath for a relaxing and comforting experience. This essential oil blend makes for a great gift for anyone who loves the warmth and comfort of vanilla and spices.


If you're not sure what to buy for that special someone, why not give the gift of self-care with an Emerald Earth Organic Spa Gift Card? Our Gift Cards are a great way to give your loved ones the opportunity to indulge in custom pampering options and create a gift they'll never forget. Simply choose the dollar amount you want to give, proceed through checkout, and upon payment, you'll receive your Gift Card instantly via email. You can then email or print the gift card and give it to the lucky recipient. Give the gift of relaxation and rejuvenation with an Emerald Earth Organic Spa Gift Card.
In conclusion, no matter what you choose, these packages and products will help you and your loved one to find balance in this busy world and have a unique,  luxurious experience. Happy Valentine's Day!
Take a picture of your Valentine's Day purchases and share it with us on Instagram at
@emeraldearthorganicspa
or by using the hashtag #myemeraldearth.