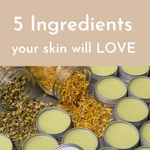 Five Skin-Loving Ingredients That We Love Using in Our Products
When it comes to taking care of your skin, choosing skincare products that include naturally soothing, calming and skin-loving ingredients is incredibly important. Picking products with the right ingredients can keep your skin feeling and looking balanced, hydrated, radiant and healthy.
If you're wondering what hero ingredients to look for in skincare, this is the article for you.
Below, we break down some of our favourite magical ingredients:
Sunflower Seed Oil
Sunflower seed oil is packed with goodness making it a wonderful carrier oil that is highly absorbent, non-irritating for most people, and all-skin type friendly.
Sunflower oil is rich in linoleic acid, which is a fatty acid that's good for restricting water loss, making it fabulous for strengthening the skin barrier. It also has a high amount of vitamin E which helps guard the skin against free radicals and damage from the sun.
Because of its anti-inflammatory properties, sunflower seed oil is great for calming the skin and treating skin conditions like dryness and eczema. 
You can find this ingredient in many of our products, a few of which include our Natural Lip Balm and Calm Skin Balm.
Chamomile
Chamomile's wonderfully soothing, healing, anti-oxidant, and anti-inflammatory properties make it a popular ingredient in skincare. In fact, even the ancient Greeks and Egyptians used crushed chamomile flowers on their skin to treat weather-related redness and dryness.
When applied to the skin, chamomile may help address inflammation, hyperpigmentation, and acne. On top of all of this, essential oils extracted from chamomile reportedly have antimicrobial properties that protect against certain types of bacteria and viruses which may aid in wound healing.
You can find this ingredient in our Lavender and Chamomile Cleaning Oil and Calm Skin Balm.
Calendula
How does this vibrant flower get your skin healthy, glowing, and bright? Similar to chamomile, calendula oil also has antifungal, anti-inflammatory, and antibacterial properties that make it helpful in healing wounds, soothing eczema, and relieving dry skin. 
The anti-inflammatory properties are thanks to the calendula flower's concentrated dose of flavonoids, saponins, and triterpenoids. These give calendula the ability to prevent your body's release of histamines which can cause redness, pain, allergies, and inflammation.
The same flavonoids that give calendula the ability to soothe skin also make it a top-notch protector. Flavonoids function as a powerful antioxidant, which helps protect your skin against free radical damage. 
Sounds amazing right? You can find calendula in our Balancing Facial Serum and Calm Bath Salts.
Magnesium
Magnesium is a common and essential mineral found in the body, that the body can't produce itself, so we need to ensure that we are receiving enough. In the human body, magnesium is present in over 300 enzyme systems, regulating blood pressure, synthesising proteins, and monitoring muscle and nerve functions. 
Magnesium has many benefits, from helping to manage muscle cramps, migraines, and stress, to encouraging a good night's sleep. Magnesium can also be hydrating for the body, as well as nourishing for sensitive and dry skin.
The best way to absorb magnesium is through the skin, which is why you will find this product in our Bath Soaks, such as our Sports Bath Salts and Grounding Alpine Forest Bath Salts.

Magnesium is the active ingredient in our natural deodorants and works by creating a layer on the surface of your skin that has a high pH value. This high pH or alkalinity inhibits the ability of odor-causing bacteria to grow. This is another great way to absorb magnesium!


Lavender
Last but certainly not least is lavender. Lavender, when used in skincare, has the ability to help even skin tone and reduce wrinkles along with many other things. 
For centuries, people have been using lavender essential oil to clean wounds, and treat burns and other skin injuries. Its antiseptic properties help the skin to heal faster while fighting and preventing further infection making it a go-to for acne breakouts, unclogging pores and decreasing inflammation. 
With its calming and inflammation-fighting perks, lavender can be particularly beneficial for anyone suffering from psoriasis and rosacea. It also helps ease the stress which can trigger psoriasis outbreaks and promotes new skin growth in affected areas.
We love using lavender in our skincare lines, so you can find this incredible ingredient in many of our Rose Collection items.


We want you to love the skin you're in and that comes with using the best skin-loving ingredients to create the perfect combinations to treat your skin.
For more information on what ingredients we use please view our product pages and click the ingredients tab. 
We believe it's important to know what is in your skincare products so that you can find the right products for you!
Let us know what you decide to try or purchase by tagging us on Instagram at
@emeraldearthorganicspa
!