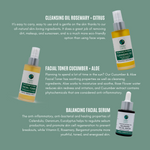 On-the-Go Skincare for Your Next Adventure
Are you ready to head out on your next adventure?
Whether you're hiking, kayaking, camping or simply spending a few nights in an Airbnb somewhere, it's important to have an easy no-fuss skincare routine that you can do anytime, anywhere.
Changes in climate and exposure to sun and wind can leave your skin feeling dry, sore, and tight - a feeling nobody enjoys.
To keep you feeling soothed and supple here is our easy 3-step on-the-go skincare routine for your next adventure in the great outdoors:
After a long day of moving, nothing feels better than cleaning the sweat and dirt off of your skin.
Our Rosemary & Citrus Cleansing Oil is a fabulous option for those needing a quick clean.
It's easy to carry, easy to use and is gentle on the skin thanks to our all-natural skin-loving ingredients. It does a great job of removing dirt, makeup, and sunscreen, and is a much more eco-friendly option than using face wipes.
Rosemary and Grapefruit Oil acts as a refreshing astringent that balances and tones the skin, also adding an antiseptic, antibacterial, and antioxidant effects, which can help to heal blemishes and protect against environmental damages.
Using 4 pumps of cleansing oil, rub vigorously into damp skin in circular motions. Remove cleanser with water or a re-usable pad. Use morning and night.
It's no secret that you sweat a lot more during summer - especially if you're spending the day adventuring. And when it mixes with excess oil, dirt, and bacteria, it can irritate the skin and lead to painful breakouts.
That's why it's important to use a toner in your on-the-go skincare routine.
Planning to spend a lot of time in the sun? Our Cucumber & Aloe Facial Toner has soothing properties as well as cleansing ingredients.
Aloe works to moisturize and soothe, Rose Flower water reduces skin redness and irritation, and Cucumber extract contains phytochemicals that are considered anti-inflammatory.
Spray toner onto a re-usable pad, and wipe over skin to remove excess dirt and makeup from pores. Alternatively spray onto your face throughout the day for a quick pick me up.
When used correctly, serums work better than almost anything to fix skin care concerns, hydrate and nourish the skin.
Our Balancing Facial Serum goes on lightly and is perfect for layering with a heavier SPF for long sunny days. 
The anti-inflammatory, anti-bacterial and healing properties of Calendula, Geranium, Eucalyptus helps to regulate sebum production, and promote skin cell regeneration to prevent breakouts, while Vitamin E, Rosemary, Bergamot promote more youthful, toned, and energized skin.
This serum will leave you feeling fresh and ready to take on the day!
Dispense 5 drops of serum into your hand and evenly distribute to all areas of your face by patting your serum covered fingertips across your face. Using your fingertips massage the serum into skin using upward circular motions.
Bonus Products For Your Outdoor Adventure:
Natural Lip Balm


Exercise often leads to dry lips. Add a full day of sun on top of that? Your lips will probably be in need of some extra moisture and protection.

Our Natural Lip Balm is unscented making it the perfect secret weapon to combat dry, flaky lips.
Long lasting, moisturizing ingredients like cocoa butter and beeswax leave your lips silky and smooth while they protect your lips from the elements.
As enjoyable as it can be, hiking exposes you to bugs. Unfortunately, during the summer in forested areas, the presence of pests is highly likely. 
Bug bites are painful and can become incredibly irritating to treat when you're up in the woods or exploring somewhere new. 
Our All Natural Bug Spray uses natural ingredients to minimize exposing your skin to harmful chemicals, pollutants, and toxins.
Plus, thanks to ingredients like lavender, lemongrass, citronella, eucalyptus lemon, you will smell great too!

Multi- purpose Body Oil

After a day in the sun and elements, be sure to give your skin some TLC with our multi use plant based body oils. Packed full of hydrating and nourishing plant oils to soothe and smooth your skin. This can feel great on sunburns, bug bites and dry skin.

Try adding to a bath to soften your skin whilst you soak.

No matter where you're going or what you plan to do, we wish you safe travels!
Let us know what you decide to try or purchase by tagging us on Instagram at @emeraldearthorganicspa!