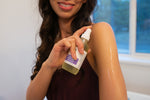 How to use Multi Purpose Botanical Oils
Did you know our body oils have many uses? 
We like to use them as body oil, hair oil, bath oil and massage oil.
Made with 100% natural plant oils plus vitamin E they are hydrating, nourishing, and oh so silky smooth on the skin.
There are four varieties to choose from:
Relaxation Body Oil
with a floral scent of lavender, ylang ylang and mandarin.
Grounding Body Oil
with an earthy forest scent of cedarwood, bergamot and fir.
Energizing Body Oil
with a citrus scent of grapefruit, orange and lemongrass.
Calming Body Oil
witch is naturally unscented. You can customize by adding your own selection of essential oils.
Try out the many ways to use our multi purpose botanical body oils.

Body Oil:
 After your bath or shower apply the skin loving body to entire body. Allow oil to absorb into skin before getting dressed.
Bath Oil:
 Add 10 pumps of oil to a warm bath and soak. Let the nourishing plant oils hydrate your skin while the added aromatherapies soothe your mind body and soul.
Hair Oil:
 Use for itchy, irritated scalp, or dry brittle hair ends. Apply oil as needed. Leave in overnight soothing for nourishing benefits.
Massage Oil:
 Use to enhance a massage, relax the muscles and the mind. Will give a smooth glide with additional aromas.


ENJOY!