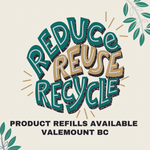 REDUCE REUSE RECYCLE REFILL
Emerald Earth Natural Skincare REFILL PROGRAM

Available in Valemount British Columbia you can now refill your empty emerald earth skincare bottles. Please contact us directly to arrange a time to pop by our private studio to refill your containers. 
Call/ text : 250-726-4068

REFILLS:
- Wipe the outside of bottles clean
- Only our emerald earth bottles can be refilled 
- Refills must be the same product as on the label of the bottle
- Products that CAN be refilled: body oils, cleansers, serums, toners, facial cream, clay face mask, mud masks, bath salts, Salt body scrub.
- Products that CAN NOT be refilled: deodorants, balms, lip balms, body butter bars, Coffee scrub.

- Save 20% when you refill
- Save the environment: Reduce, Reuse, Recycle, Refill