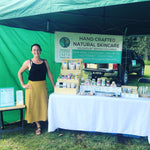 Shop Local This Summer at the Farmers Markets
I always look forward to the summer farmers markets! This summer of 2021 I have confirmed dates at both the Jasper Alberta Farmers Markets and the Valemount British Columbia Farmers Markets. 
Be sure to come by and check out my display of handcrafted natural skincare products. Along with so many other great vendors selling things from local beef, fresh eggs, local farm fresh fruit and vegetables, home made baked goodies, fresh roasted coffee, and other handcrafted artisanal goods. 

Find me this Summer 2021:

Jasper Alberta Farmers Markets: Wednesday 11:00am - 3:00pm 
June 23rd, July 14, July 28th, August 4th, August 18th, September 1st

Valemount BC Farmers Markets: Thursday 4:00pm - 7:00pm
July 15th, July 29th, August 5th, August 19th, September 2nd.

See you at the Markets!