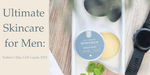 Ultimate Skincare for Men: Father's Day Gift Guide 2023
With Father's Day just around the corner, it's the perfect opportunity to celebrate and pamper the special men in our lives. Gone are the days when skincare was solely associated with women; today, men are embracing the importance of self-care and a solid skincare routine.
We understand that men's skin has its own unique needs and challenges, and that's why we've curated a selection of products designed to address those concerns head-on.
Gone are the days of a simple splash of water on the face; modern skincare for men encompasses a wide range of products that cater to various skin types, lifestyles, and preferences. From cleansers and moisturisers to targeted solutions for specific concerns, such as beard care and sensitive skin, we've got you covered.
Cleansing is the foundation of any effective skincare routine, and our Cleansing Oil Rosemary + Citrus is the perfect choice for the man in your life. This unique blend is suitable for all skin types, addressing concerns like excess oil, clogged pores, and impurities that can dull your complexion. With each use, this cleansing oil delivers a refreshing and invigorating experience, leaving him with a sense of renewal.
The secret lies in our thoughtfully chosen ingredients. Rosemary and citrus not only delight the senses with their refreshing aromas but also bring powerful antiseptic and antibacterial properties to the table. This dynamic duo works synergistically to purify, heal, and revive the skin.
What about those with beards? We understand the unique needs of facial hair and the skin underneath, which is why we've handpicked premium ingredients that go the extra mile. Our Wilderness Face + Beard Oil tames unruly facial hair, conditions the skin, and promotes a soft, well-groomed beard. Whether your loved one sports a full beard or a well-trimmed moustache, our beard oil will keep their facial hair looking and feeling its best. The nourishing oils provide essential vitamins, omegas, and antioxidants to promote healthier hair and skin. With its lightweight formula and earthy cedarwood scent, it's a delightful addition to your daily routine.
For a comprehensive skincare experience, consider our Men's Daily Facial Kit. This curated collection brings together the power of our Cleansing Oil Rosemary + Citrus, Facial Toner Cucumber + Aloe, and Wilderness Face + Beard Oil. This natural and earthy kit is designed to meet daily facial care needs, providing simplicity, cleanliness, purity, and ease of use. The subtle scents of rosemary, citrus, cedar, and bergamot will invigorate the senses while taking care of his skin.
Another product that's perfect for the active dad in your life is our Sports Bath Salts with Eucalyptus + Mint. After a long day of sports or physical activities, these bath salts will provide much-needed relief. Enriched with magnesium salts and powerful botanicals, they soothe tired muscles and joints, decrease tension, and help relieve pain and swelling. The refreshing blend of peppermint, eucalyptus, wintergreen, and rosemary increases circulation, reduces inflammation, and eases sore muscles and achy joints. 
If the man in your life is extra active, let's address muscle tension, aches, and swelling with our Botanical Balm: Arnica + Peppermint Relief Balm. This natural balm harnesses the healing properties of arnica, peppermint, and wintergreen to provide soothing relief. It gently warms the skin, increases circulation, and eases muscle and joint pain. Whether it's for sports recovery or everyday aches and pains, the natural plant oils of eucalyptus, rosemary, and ginger reduce inflammation and provide long-lasting comfort. Help the dad in your life say goodbye to discomfort and hello to relaxation with this powerful relief balm.
To keep in theme with an active lifestyle, let's focus on an essential grooming product: our Natural Deodorant Cedarwood + Juniper Berry. This aluminum-free deodorant is designed to keep armpits smelling fresh and clean all day long. Unlike conventional deodorants, it won't clog pores, stain clothes, or lead to harmful side effects. Packed with natural, nourishing ingredients, this deodorant absorbs underarm moisture and effectively neutralises odour-causing bacteria so your dad can enjoy peace of mind and long-lasting freshness.
For those who prefer a different scent, we also offer the Natural Deodorant Lemongrass + Tea Tree which is specially formulated for normal to sensitive skin. With our eco-friendly, biodegradable packaging and its nourishing ingredients like shea butter, cocoa butter, and coconut oil, this deodorant is a must-have for any grooming routine.
For an easy present for your loved one, our Into The Wild Package may tick all of the boxes. The package includes our Wilderness Face and Beard Oil, Cedarwood & Juniper Berry Natural Deodorant, Arnica & Wintergreen Sports Balm and Peppermint Lip Balm.
We understand that choosing the perfect gift can be a daunting task, especially when it comes to skincare and bodycare. Whether you're looking for a complete skincare set or individual products to mix and match, we've got something for everyone.
So, this Father's Day, let's redefine masculinity and encourage the special men in our lives to embrace the power of self-care and a dedicated skincare routine. Our gift guide will help you find the ideal present that will leave them feeling spoiled, refreshed, and confident.
Together, let's celebrate Father's Day with the gift of self-care and unforgettable experiences.